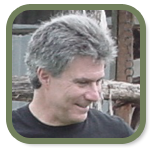 To those leaning on the sustaining infinite, today is big with blessings. (1)
Mary Baker Eddy certainly knew and practiced that. It's interesting to trace her journey, growing up in the mid-1800s in a conventional New England church, facing the challenges any smart woman faced in the culture of the time.
Bob tries to take her ideas to heart.
Bob has been a spiritual seeker since his first class in religion at Trinity University in the '70s . . .and he first learned about metaphysical healing from Christian Science. He became a practitioner in 1985, after completing Christian Science class instruction.
He is married to Joyce Geiser Schwaller, a Journal-listed Christian Science practitioner. They have three grown children and a varying number of dogs and cats.
Bob is available to pray for you, anytime. he know from personal experience that affirmative prayer works, using Eddy's ideas in Christian Science, and has seen many examples of this in his life and the lives of others.
Prayer heals relationships, guides us to more rewarding careers, and resolves financial challenges. Prayer works to heal sickness and maintain health. Anything that comes up to challenge us can be healed. We always grow spiritually when we pray.
And when we can align our thoughts with the good that Divine Love has for us, well, that's the ultimate power.
You can contact him by phone (972-243-0439) or email (bobschwaller@gmail.com) any time. he'll be glad to discover, together with you, your spiritual truth. Learn more at www.growtools.org.
(1) Eddy, Science and Health with Key to the Scriptures, page vii