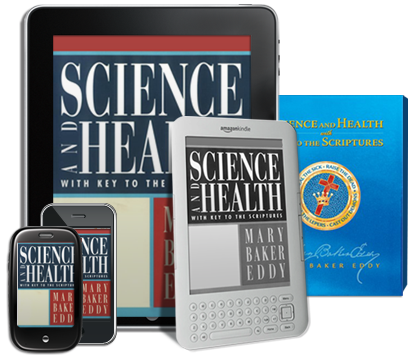 The demand for the healing message in Science and Health with Key to the Scriptures is growing worldwide. People are asking for a more spiritual understanding of health, for a better basis for lasting relationships, and for the confidence that comes from finding a greater purpose to existence. Now, as they have for the past one hundred twenty-five years, readers are finding that Science and Health enriches their lives.
From its first publication in 1875 to today, the dawn of a new millennium, Science and Health has transformed the lives of millions who have ventured into its pages and embarked on a spiritual journey. It continues to transform lives, one at a time.
Based on author Mary Baker Eddy's own experiences, its practical instruction and inspiring ideas have helped seekers unlock the door to spirituality. For many, Science and Health has become a reference book for life. (- Amazon editorial review)
$10 (plus $5 shipping)
Buy a paperback copy of Science and Health from Footsteps of Truth. Includes convenient Word Index.

$9.99 (download)
Start reading Science and Health on Kindle in under a minute. Don't have a Kindle? Also works on any computer, tablet, or smart phone (use the free Kindle app).

$26.95 (download)
From Audible.com. Unabridged, 26 hours and 55 minutes.

About the Book
We have read the books of Deepak Chopra, Marianne Williamson, Eckhart Tolle, Wayne Dyer, Byron Katie, Greg Braden, Larry Dossey, today's leading Christian visionaries like Brian McLaren, Philip Gulley, Richard Watts and Buddist monks like Thich Nhat Hanh, attended transformational workshops, meditation classes, seminars and teleconferences, talked with gurus, spiritual practitioners, thought leaders and even a few quantum physicists and they have all been helpful.
Discovered and developed in the 19th century, Mary Baker Eddy's proven system for spiritual transformation and healing is outlined in her book Science and Health with Key to the Scriptures. It still remains at the top of our list as a resource and practical guide to the healing of mind, body and spirit. We feel strongly that regardless of your occupation, education, race or religion you will be able to find solid, practical, spiritual solutions within the pages of this book.
This volume has a century-long heritage of improving health and changing lives.
We warn you that this is a book for thinkers! You may have to drop a few false perceptions and some of the limited views that have kept you in fear but we have found that freedom comes with stretching. Just ask anyone who practices yoga or strives to run a marathon.
Eddy devoted more than four decades to refining this message of hope, healing, comfort and spiritual strength. First published in 1875, this book has a 125-year history of inspiring and healing readers worldwide.
Mary Baker Eddy (1821-1910) continues to be one of the most influential authors on the relation of mind, body, and spirit. She was a remarkable lecturer, reformer, spiritual healer, and religious figure whose ideas challenged mainstream beliefs about the nature of existence and the power of prayer to heal. Although she struggled in her early adult years with poor health and financial and family hardship, her deep love of the Bible was a continual source of comfort and support. The insights she gained transformed her own life, and formed the basis for the pioneering ideas in Science and Health.